Last Updated on Friday, 12 December 2008 14:48
Pioneer Library System - Press Releases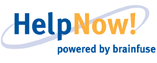 It's late in the evening your child brings you the following homework questions for help, x + 23 = 2x + 45 ... Can you still solve for x?
You are studying for your World History test – but you need to brush up on a few things beyond Wikipedia and your textbook. Do you know a place to go online to get reliable help studying?
Between 2:00 pm and 10:00 pm, every day, you can login to Brainfuse - HelpNow and access On-Demand Homework Help and State Aligned Skills Building tools with real online tutors. Brainfuse also provides a 24-Hour writing lab where students can submit papers for constructive feedback.
All you need to access Brainfuse is a Pioneer Library System library card and a computer with internet access. Call or email your hometown library for additional information regarding Brainfuse.
If you are interested in having someone come to speak to your school or group about Brainfuse please email This e-mail address is being protected from spambots. You need JavaScript enabled to view it for additional information.